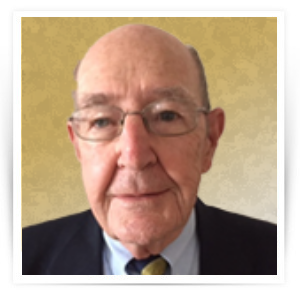 Eugene "Gene" Geronime, Capt. (Ret.), U.S. Navy
Retired Capt. Gene Geronime, U.S. Navy, is the second inductee to the Museum's "Wall of Warriors." Gene was in carrier aviation during a military career that spanned almost 30 years, beginning with graduation from the U.S. Naval Academy in 1954. He also holds advanced degrees in aeronautical engineering from the Naval Postgraduate School and Stanford University.
Gene operationally flew planes that included the F9F-6 Cougar, the FJ3/3M Fury, the F8 (series) Crusader and the F4J Phantom II. During two combat tours to Southeast Asia on the USS Oriskany, he flew the F8E Crusader. Other carriers upon which he deployed were the USS Hornet, the USS Ranger, USS Saratoga, USS Kitty Hawk and USS Constellation. He had 850 carrier landings and 4,000 jet hours during his career. Gene also managed three major programs during his Washington tours, including the F/RF-4 Joint Program Office, the Harpoon Project Office and the Tomahawk Project Office. In addition, he was a test pilot in Carrier Suitability at the Naval Air Test Center.
Gene was awarded the Defense Superior Service Medal, the Legion of Merit, seven Air Medals, two Navy and Marine Corps Commendation Medals with device for combat valor, the Navy and Marine Corps Achievement Medal, the Navy Unit Commendation Medal, the Navy Meritorious Unit Commendation Medal, the National Defense Service Medal, four Republic of Vietnam Service Medals, the Republic of Vietnam Campaign Medal and the Republic of Vietnam Gallantry Cross with Palm Medal.
After retiring from the Navy, Gene spent 15 years with McDonnell Douglas in various executive positions. In 1998, he and his wife, Jane, moved to Punta Gorda, where he became actively involved with the Florida International Air Show. Gene is an associate fellow of the American Institute of Aeronautics and Astronautics and a trustee emeritus of the Athletic and Scholastic Division of the United States Naval Academy Foundation.
Gene and Jane have been married for more than 58 years and have three children, eight grandchildren and two great-grandchildren.